The students and directors are so happy to have the D118 Band Programs back together and we hope you are too!
Now is a great time to show off your D118 Bands pride by supporting one of our fundraisers.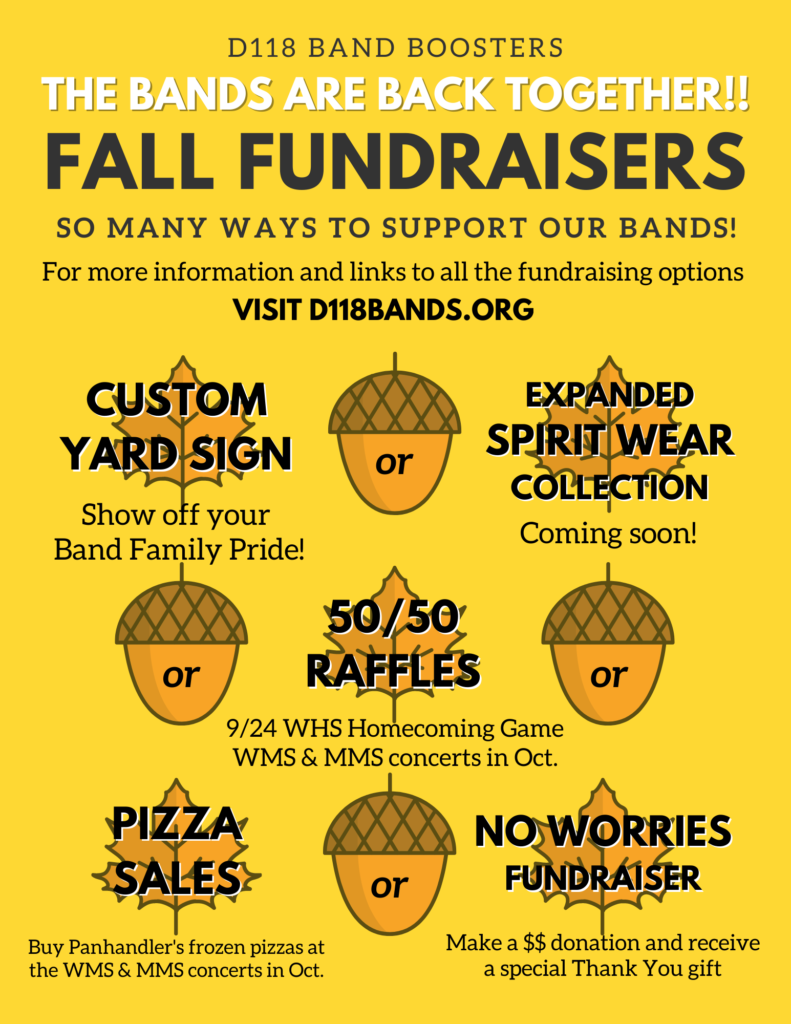 Custom yard signs to proudly proclaim you are a WHS, WMS or MMS band family
A new selection of band spirit wear
50/50 raffle tickets at the Homecoming Football game and middle school band concerts
Panhandler's frozen pizza at middle school band concerts
Or…
If you want to support D118 Band Programs, but you don't want to buy a sign or a pizza or a raffle ticket, No Worries! You can make a cash donation, and as a token of our appreciation you'll get some special Band Boosters merch.
Timing
Cost
How to support
Custom "Band Family" Yard Signs
9/21-10/4
$25 + $5 shipping per order
Click here to order
Spirit Wear
Oct-Nov
Starting at just $10
Details coming soon!
50/50 Raffles
9/24, 10/5, 10/6
1 for $1
6 for $5
Raffle tix sold at homecoming football game and middle school concerts in Oct.
Panhandler's Frozen Pizzas
10/5, 10/6
$9 each
3 for $25
Pizzas sold after WMS and MMS concerts in Oct.
"No Worries" Fundraiser
Anytime!
Any amount!
Click here to donate online
Band Boosters supports all D118 band programs and relies on donations from our friends and families.
Donations cover the cost of music, supplies and repairs for the bands outside of the school budget; judges for the Solo and Ensemble event; and two scholarships for HS seniors. In other words: we help make our bands the best they can be by celebrating and supporting all D118 band students.
Without the ability to do normal fundraising in the 2020-21 school year we are not as strong financially as we like to be at the beginning of the year. Our Fall Fundraisers offer a little something for everyone to demonstrate their Band Pride and support the amazing band programs at our high school and middle schools! If you have any questions, email us at d118bandboosters@gmail.com.